Naxos closes Classics Online streaming service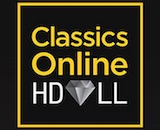 Naxos has shuttered its Classics Online streaming service. The platform, which featured high-resolution and CD quality audio, only spent about a year in operation. Naxos founder Klaus Heymann indicated that a combination of technical/licensing issues and heavy competition in streaming were the main causes of the closure.
Naxos had some difficulties securing backing from labels for the service, so the price point was $15 a month, above the usual $9.99/month for a full-service on demand site and far above the expected fee for a niche, genre-specific subscription. "Not many people were prepared to pay that," Heymann said.