Prince stream numbers skyrocket after his return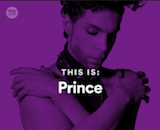 Prince is still racking up the fans from beyond the grave. Songs by the multi-talented songwriter and performer were streamed 5.9 million times in their first two days back on streaming services, according to BuzzAngle Music. Across Prince's whole catalog, streaming activity on his songs is up 4,719% during those two days compared with the previous five days. For albums, streaming activity is up 5,578%. Purple Rain was the most-streamed album with more than 1.53 million streams and "Let's Go Crazy" was the most-streamed single at 339,748 streams.
The tracking of Prince's performance on these platforms after his death is a strange experience. Although it's positive to see people getting to revisit their favorites or experience his work for the first time, the news developments are also a poignant reminder that we lost Prince and his artistic genius too soon.